Chimchar's Battle Tower Records!!
This is a thread where you can (and are encouraged to) post your Battle Tower records. Provide a screen shot of the record (example below), details on your team, and (optional) a link to a video of your final battle (when you lose). Share opinions on teams, give each other advice, whatever.
I guess I should start. I played for a few hours today and got a 48 battle streak (as pathetic as it is compared to some smogon records, its still my best). Here's the team:
Lead - Weavile w/ Life Orb
Jolly Nature
40 HP/ 252 Atk/ 216 Speed
Moves: Ice Punch, Night Slash, Fake Out, Brick Break.
2nd Poke - Latias w/ Soul Dew
Timid Nature
4 HP/ 252 SpAtk/ 252 Speed
Moves: Recover, Calm Mind, Surf, Dragon Pulse.
3rd Poke - Metagross w/ Leftovers
Adamant Nature
244 HP/ 252 Atk/ 12 Speed
Moves: Agility, Meteor Mash, Thunder Punch, Earthquake.
I'll explain stuff, but only by request. It should be pretty simple to understand.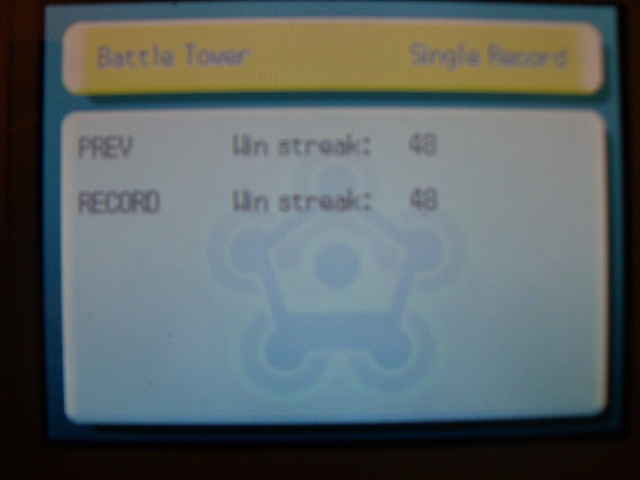 There's the screen shot. I don't have a Youtube account, so if someone could PM me the info for the Chimchar account then I'll upload it and post a link. Lets say that it involved some exreme freeze hax for a Cresselia. Obviously, it was a Tower Tycoon Battle. The worst part is, I would've won if I had put Metagross in on Cresselia right away (instead of losing weavile to a crit first).
Post comments, your own records, or anything that relates to this at all.