Pokemon Best Wishes Episodes 6 & 7 are up in the Anime Section. Expect Episode 8 up this weekend. Due to Nintendo being a faggot I can't find a site that doesn't get it taken down with captions...so we'll just wait on that. Below are some shots of Episode 7 which is up now. =)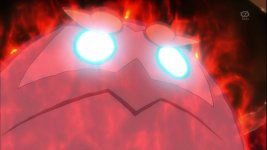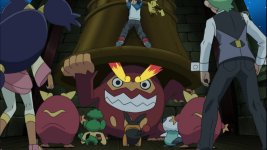 This year's parade, held as usual on Thanksgiving Day (this year Thursday, Nov. 25), will begin at 9am EST. Included in the lineup, as it has been since 2006, will be a balloon styled as Pikachu chasing a huge Poké Ball(picture below). Pikachu has been part of the 86-year-old parade since 2001; it is now onto its second design.
The first balloon style featured a "Flying Pikachu", which ran from 2001 through 2005. It was officially retired at the "Party of the Decade" Pokémon tenth anniversary event at Bryant Park in August 2006.
Macy's Thanksgiving Day Parade is held in Manhattan and will be telecast on NBC (except in the Houston and Detroit markets) at 9am in all time zones.
An English movie poster for the Master of Illusions: Zoroark popped up on eBay a few days ago but has since been removed. The film's English title is a direct translation of the Japanese title and, as predicted, Zoroark keeps its Japanese name. The poster states that the movie will see its English release in 2011, though we're not sure if this refers to the DVD release date or the Cartoon Network showing (or both). Oddly, Arceus and the Jewel of Life still has yet to see its DVD release in America - what's taking them so long?!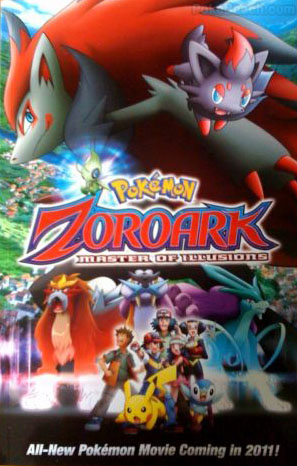 Now for a bit of sad news. Last Friday, a week from tomorrow, Takeshi Shudo, one of the original writers for the Pokemon anime passed away on Friday. He was 61. May he rest in peace and the Pokemon Anime continue to entertain the nations.
Feel free to post any big world news, pokemon news, or your own personal news(like an A on a test...or a new job...or whatever your proud of that you did) and I'll make a note of it on the first post for people to see. If you PM me I'll add it to here and post when this post is updated. =)