Japan Event
Game(s) Obtainable With:
Black and White
Available From:
October 22
nd
2010 to November 29
th
2010
Available At:
Wifi
Pokémon: Kumashun
OT: ポケスマ
ID Number: 10220
Item: Max Potion
Ability: Snow Cloak
Nature: ???
Date: (date received)
Location: Apparently Had A Fateful Encounter.
Level: 15
Moves: Powder Snow, Growl, Bide, and Icy Wind
Pokéball: Cherish

Ribbons: Classic

Source/Other Information:
CoroCoro magazine has announced that the Freezing Pokemon Kumashun will be available for download over Wi-Fi from October 22nd to November 29th. The Pokemon will not have any special moves or abilities; rather, it is being given out because of its rarity during the spring in Black and White. It's probably an attempt to show players that different Pokemon appear more often during different seasons in the game.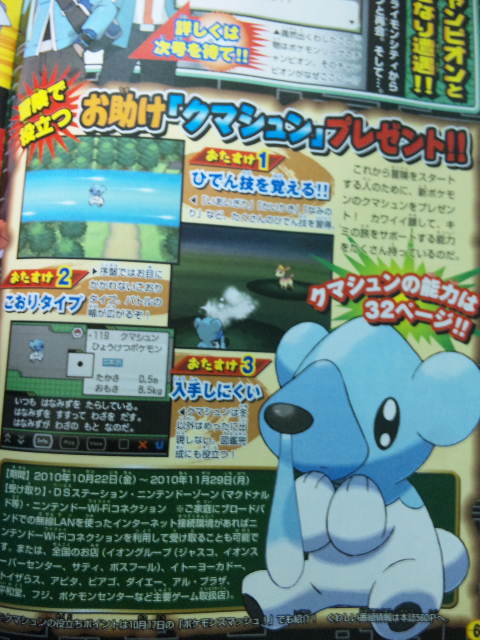 Monkey
_________________________