A smaller version of CoroCoro, CoroCoro Special, was released in Japan and has revealed that double and triple battles in Black and White will feature new combination attacks.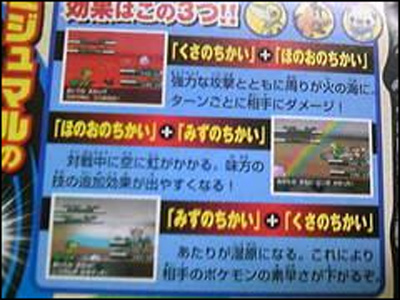 If you select two or more specific attacks in a specific order, they will produce a new effect. The scan that was leaked reveals three new attacks that can be used in this way: Grass Oath, Fire Oath, and Water Oath. Using Grass Oath followed by Fire Oath produces a field of fire that damages your opponents (produce the greenery, then burn it). Combining Fire Oath and then Water Oath creates a rainbow in the sky which boosts the secondary effects of your teammates' attacks (shoot fire, wet it, produce steam, then rainbow!). Using Water Oath followed by Grass Oath creates a wetland field that lowers your opponent's speed (wet the ground, throw greenery on it, wetland!).
To what extent this new combo feature will be available for attacks is unknown, but we will obviously find out in a few weeks when the games are released.
We now have a larger and more revealing image of the Journey Partner Promo Collection advertisement: it reveals the new card layout for the BW era.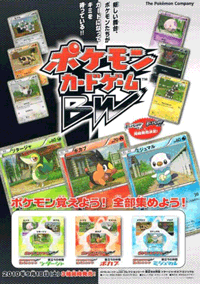 The Pokemon stage tab has been moved to the left of the Pokemon name while the name itself has been moved more to the right. While it is hard to see, it appears Weakness, Resistance, and Retreat Cost are all on the bottom-left of the card while the PokeDex entries are now on the right rather than along the bottom of the card.
Finally my wireless for my internet is acting up. I can get on no problem if the cord goes into the computer...but there is more than just me in my house. So I'm gonna take a smallish break from my super activity and be one once a day to read PMs/Post/give you guys updates. High chances are that I WON'T be on the chatbox till I fix the wireless...so I'm not being a jerk by not signing on the chat with no notice. If I owe you pokemon for a trade or whatevers, PM me and scedual a time. If we scedual a time I'll make sure I get the internet then and be on the chat solely for that trade or whatevs. Sorry for any problems this may cause for you guys. If this causes a need for new CB Mods...Monk, Ryan, Nips, and/or JLA should PM me and I'll get back to you guys on it. I'll get PoM done tomorrow...I have no suggestions yet...if you want a pokemon to be featured this month...PM me or post here and I'll get it done.
OH! Luke is also "officially" out of the Gym Leader Group. So Ground joins the open types and we have the need for 1 more Gym Leader. Contact Monk, Nips, Varment, and Maple for try outs. As for the testers...PM me if YOU pass someone. When I get 3 PM passes I'll make sure he/she is 100% added. If you guys want to attempt to do it all on your own...knock yourselfs out.
Till next time. <3 you all!